Make no mistake about it, being terminated from your employment for any reason is a traumatic and life-altering event. If serious cause for your dismissal does not exist, then your employer must provide you with adequate notice that your position will be terminating, or adequate "payment in lieu of notice".
Legislation exists which sets out minimum standards that must be met by your employer in paying you pay in-lieu of notice. In addition to the legislated minimums that must be paid (absent of just cause for the dismissal), the common-law or judge-made law specifies that additional amounts be paid over and above the minimum prescribed by statute in order to ameliorate the harshness of the dismissal and the devastating economic effects.
You may be terminated and provided with an "offer" and short period of time to decide to accept it and sign a Release. DO NOT sign any Release until you have had the offer reviewed by an experienced lawyer such as Anthony Giannotti.
Anthony Giannotti will review your offer and provide you with advice as to the reasonableness of the offer and whether it should be accepted or rejected. In most cases, Anthony Giannotti is able to negotiate a substantially increased offer from your employer in short period of time. If your employer is being unreasonable, Anthony Giannotti will sue your employer for wrongful dismissal and get you the compensation you are entitled to. Anthony Giannotti is well recognized as a trial lawyer in the area of wrongful dismissal cases and acted as lead counsel in the precedent setting case of Bouma v. Flex-N-Gate (see Bouma v. Flex-N-Gate Canada Co. 2005 C.C.E.L. (3d) 2 Ontario Superior Court of Justice) where he obtained one of the largest awards in Canada for his client inclusive of aggravated and punitive damages.
Anthony Giannotti has been certified as one of a few lawyers in Ontario as a Certified Specialist in Civil Litigation.
According to the Law Society of Upper Canada:
"Lawyers who are Law Society Certified Specialists have the experience and credentials to meet your legal needs. Certified Specialists are recognized and experienced lawyers who have met the highest standards of competence and professionalism."
Certified Specialists such as Anthony Giannotti have achieved unparalleled expertise and standards. Get Anthony Giannotti to represent you and handle your case and know you are being handled by a lawyer with the highest standards of competence and professionalism.
Anthony Giannotti will ensure you receive the compensation which you are rightfully entitled to.
There are time limitations which limit the time which you have to make a claim for Employment Standards Act payments, Human Rights Tribunal complaints, and to bring a lawsuit for damages resulting from your wrongful or constructive dismissal. It is important that you us as soon as possible following your dismissal.
Anthony Giannotti is available to meet with you at the time which is most convenient for you to explain the options which you have following your dismissal.
---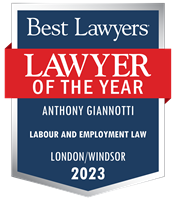 Anthony has been practicing Civil Litigation for almost three decades. He was voted 2023 Lawyer of the Year by his peers in the internationally acclaimed Best Lawyers ™ in the areas of Labour and Employment for Windsor/London Ontario.
He has been recognized as one of the best lawyers in Canada by Best Lawyers ™ since 2022 in the areas of Personal Injury Litigation as well as Labour and Employment Litigation.